Hello, Friends!
You may have noticed that I skipped a few years in between the last post and this one. I had planned to fill those in by stamping on Sunday and I do have one card finished, but I didn't get it photographed. Sometimes more important things come up that have to be dealt with and today was one of those days. I'm just thankful I'm able to stamp again! If I miss out on a few of the Papertrey Celebration Days, I will just have to show you my favorite stamps from those years later. Life- I've found that it frequently gets in the way of fun stuff!
Now let's get to today's card! As a reminder, on their blog, Papertrey Ink has been focusing each day on a single year for the past ten years that they have been in business. This is part of the celebration of their 10th Anniversary. For every year, on their blog, they have featured five stamp sets that were introduced that year. They have shown cards made with it when it originated as well as a card made now with today's styles and techniques. For the 2012 post, seen
here
, one of the stamp sets they featured was
Hello Sunshine
. This was the first day that I actually owned one of the stamp sets they were showing showing off. If you owned one of the five special stamp sets, you were encourage to make a card with it for that day's challenge.
Here is a small photo of Hello Sunshine. I encourage you to check it out on PTI's website
here
. Click on the picture of the stamp set on their page and you'll get a great big version which is much easier to see, so you don't miss out on any of the details!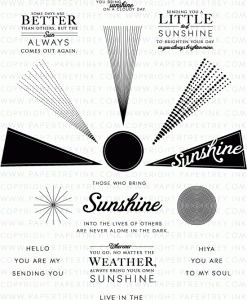 I was super excited to put this stamp set to work, but I admit, I was a little nervous. After all, you have to line up all the little points in the center of a circle to get your sunshine to turn out correctly! Never fear- Papertrey Ink to the rescue! See that circle stamp on the left with all of the lines running through the center of it? That is your guide for stamping your rays in a perfect circle, no matter which stamp you choose! I stamped my circle in Stone Gray, a light gray that would barely show, at the top left of my white card stock. Then I picked out the 2nd ray from the left to do my stamping. I could have picked any of them or even stamped a variety of rays for my sunshine. I liked the same style of ray for my clean and simple card, though, so that's what I stuck with today.
I put my ray stamp on an acrylic block. This part is so easy, I didn't need the MISTI. Make note of that, as I will probably never say it again! In fact, I never thought I would say that ever, but it's true for this step! First, I put the tip of my ray in the center of the circle and stamped. Then, I skipped a space in my gray circle, and put the tip of my ray in the center of the circle two spots over and stamped again, always using the same Lemon Tart, yellow ink. After I had gone all the way around the circle, I filled in the spots I had skipped with a different color of ink, Bright Buttercup, and my sun could have been counted as complete.
This was way too much fun, though, and I was definitely not ready to stop playing! Throwing all caution to the wind, I pulled out another yellowish orange color, Summer Sunrise, and an orange ink, Orange Zest, ignored the little gray lines and stamped both colors all around my circle. This gave me rays in the little spaces that the stamp had left the first time I went around the wheel. I did it in various places, so I didn't have an exact pattern. It's easy to pick out bright Orange Zest color and see that I only used it seven times- four at the top of the card and three coming down towards the bottom. This brightened up my sunshine which now had four bright, happy, sunshiney colors all coming from the center!
Although the center was perfect enough that I could have showed it off, I wanted to add to the sunshine effect. I used a Papertrey Ink die from the Heart-2-Heart #6 Die Collection to get my zig zag circles. I cut one from matching Summer Sunrise and Orange Zest card stocks and layered them on top of each other, making sure all of the little zig zags could be seen. Then, I stamped the other circle stamp in this set with Orange Zest ink on the Summer Sunrise card stock. The little lines on it are so close together that it makes the card stock look orange, but I assure you, it is not. I used a circle paper punch, which I probably haven't used since 2012, to punch out my circle and added it on top of the zig zags with foam tape. You know how much I love foam tape!
Knowing, I was back into much needed MISTI territory, I stamped my greeting from the Papertrey Ink Mini Stamp Set Tucked In: Thinking of You in Dark Chocolate Ink. (It was straight because of the MISTI!) The Tucked In series of stamps are meant to be stamped on the inside of cards, but I wanted to use it as my sentiment. It worked perfectly with my sunshine theme! I mounted my white card stock front on a mat of Summer Sunrise card stock. I then mounted all of that on my Orange Zest card base and this card was complete!
It came together pretty quickly due to the matching card stocks and inks and the design of the stamp set! Way to go, Papertrey Ink!
I encourage you to
check out this post
and see all of the other cards that can be made with this set. They are awesome!
Now it's time to say goodbye to 2012!
Happy Stamping!
I used the following Papertrey Ink products to make this card:
Hello Sunshine Stamp Set
Tucked In: Thinking of You Mini Stamp Set
Lemon Tart, Bright Buttercup, Summer Sunrise, Orange Zest and Dark Chocolate Ink Pads
Stamper's Select White, Summer Sunrise and Orange Zest Card Stock
Heart-2-Heart #6 Die Collection
1 3/8" Circle Punch by EK Success
Scotch Double Sided Mounting Tape by 3M
MISTI by My Sweet Petunia